RETAIL MAKEUP ARTIST COURSE
---
Graduate Course Rating
5 out of 5 stars (based on 5 reviews)
---
 Are you seeking a career as a Retail Makeup Artist selling beauty, makeup and cosmetics products?
For a role within the retail industry ideal candidates should have a passion and knowledge of not only the products, but also be sales focussed and have a strong level of customer service. Makeup Artistry for retail is about so much more than just applying makeup.
The Seventa Makeup Academy Retail Makeup Artist course is designed to give you the tools that you need to get started and prepare you to land a job with your favourite beauty brands.
It is suggested but not absolutely necessary for Retail Makeup Artist Course students to have some experience as a makeup artist or have completed the Introduction to Makeup Course.
 To be a Makeup Artist in Retail you should:
enjoy working with people
have a strong visual sense and a creative imagination
communicate well at all levels, listen and empathise
be confident and tactful to suggest changes to benefit an individual's appearance
have stamina
able to work under pressure
be methodical and pay attention to detail
work well as part of a team of often diverse colleagues
On the Seventa Makeup Academy Retail Makeup Artist course you will gain knowledge in:
How to present yourself and prepare for your interview so you land the job
What you need to do once you get the job
Sales Techniques and how to achieve the goals set by the company
Deal with customers so they walk away happy with the products they purchased
Pre-makeup customer knowledge and skills and how to use this as part of the consultation
Hygiene practices and preparation techniques
Makeup application techniques
Specialist consultation and makeup techniques
Customer aftercare and ensuring the customer will return
Different brand philosophies and how to work this into your role
The history of makeup and how it has affected the industry over time.
---
Assessment: Every student that undertakes the Retail Makeup Artist course at Seventa Makeup Academy completes a final assessment which is graded. Students that get a grade higher than 85% are guaranteed an interview with a top beauty brand or agency.
---
Seventa Makeup Academy Graduate Stories
Professional and Encouraging
We all had a lovely time. A professional tutor who was also kind and caring and took great trouble to assist and encourage
Lots of useful tips
We had a really good time, the instructor is very knowledgeable and gave us lots of useful tips. Totally recommend it!
Covers all the basics
Very friendly and helpful, small groups, covered all basics of skincare and makeup
Great Instructor, relaxed teaching, highly recommend.
Juan is great instructor. He is extremely knowledgeable but fun and friendly at the same time. The way he teaches is very relaxed, so you end up experimenting with new things until you achieve the look which makes you happy. Highly recommend.
Definitely Recommend
Small and relaxed class, great teacher, very knowledgeable, made me feel at ease. Can't wait to put the skills that I have learned into action.
---
The Retail Makeup Artist course awards participants with a Seventa Makeup Academy Diploma in the course subject.
---
Bonus: Students attending the Retail Makeup Artist course receive automatic registration on our Professional Makeup Artist Discount Program for 30% off Ten Image Professional full product range, 10-20% Off future courses, masterclasses and workshops.
---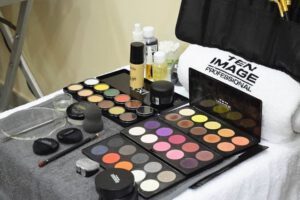 Products: All products are provided for use on the course. Students and Tutors at Seventa Makeup Academy use products from Ten Image Professional. The products have exceptional quality, are hypo-allergenic to avoid or minimise any allergic reactions, are long-lasting, respectful and caring for the skin.
---
Aftercare & Work Experience: After completing your course at Seventa Makeup Academy we will invite you to gain Work Experience working alongside Professional Makeup Artists on events and jobs provided through Seventa Image Creatives Agency.  You will also gain access to Free Masterclasses, Micro Teaching Sessions and Workshops.
Graduates are invited to join the Seventa Image Creative Team on high profile events and productions throughout the year. We also regularly have international opportunities, so pack your bags and get ready to roll.
---
Companies, Events and Productions We Partner With:
Duration: 3 days + assessment day
Cost: £ 645.00 GBP