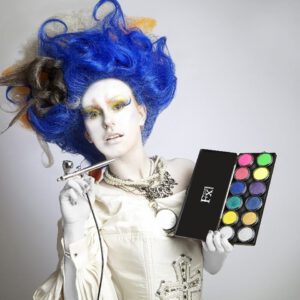 1 Day Intensive Workshop including Airbrush Kit & Makeup
The image industry is constantly evolving. New techniques that make the professional makeup artist a versatile and dynamic profession, this is essential to keep abreast of the latest trends.
Discover the new trend: airbrushing, a new concept for Makeup in HD, ideal for camouflage. From a nude look to the more elaborate fantasy motifs, anything is possible with airbrushing.
Seventa Image provides you with a training plan of exceptional quality in order to open the doors to a wide range of job opportunities in this specialised field of Makeup artistry. Specialised training to develop your creative skills and aim to become the industry expert who dares to create.
Seventa Image Makeup Academy will teach you the skills and techniques that you will need to become a professional Makeup artist in the field of Airbrushing.
We offer in-depth airbrush Makeup classes that cover all the details of application and technique.
The airbrush technique is an innovative and advanced approach to makeup application. It offers a precision and illumination that is not easily achieved with typical sponge and hand techniques.
On this Seventa Image Makeup Academy Airbrush 1 day workshop you will learn the basic skills and techniques in the following areas:
• Equipment maintenance
• Airbrush control
• Application of water based foundation
• Concealing techniques
• Highlighting & contouring techniques
• Application of blusher and bronzer
• Basic coverage of skin complaints
Our workshops are intensive and you will leave with all the know-how of the basics of airbrushing and airbrush makeup application that is necessary to make a career in the industry as an Airbrush makeup artist.
Included within the course fee, you will receive the following:
1 Day Intensive Seventa Image Airbrush Makeup Workshop + Ten Image Professional Airbrush Kit & Makeup that includes:
Portable Rechargeable Battery Operated Compressor + Airbrush Gun
Tool Kit for Airbrush including hose, bag, regulator, cleaning fluid, cleaning container with airbrush support
Airbrush Makeup Kit including Airbrush foundations, eye shadows & blushers
Makeup Kit including Skin Perfecting Serum, Cover Adapt Concealers, Mixing Palette, Deluxe Sponges
Duration: 6 hours / 1 day
Cost: £ 595.00 GBP
Tutor: Professional Makeup Tutor
READY TO GET STARTED
Make your course payment below and our team will follow up and get you booked for your class date.
£595.00Add to basket