ADVANCED MAKEUP ARTISTRY COURSE
---
Graduate Course Rating
5 out of 5 stars (based on 5 reviews)
---
The Advanced Makeup Artistry Course is 10 days of intensive training designed to develop a career and master the techniques required to work in the creative world of makeup. This course is also suitable for Makeup Artists that are looking to refresh their skills.
The Advanced Makeup Artistry Course provides students with specialised training to develop your creative skills with the aim to become an industry expert who dares to create. Students that complete the Advanced Makeup Artistry Course will be prepared to work independently as a freelancer in specialised areas of makeup including TV and Media, Photographic and Editorial or the fast paced world of Fashion.
Topics and subjects covered on the Advanced Makeup Artistry Course include:
Working Professionally including Health & Safety, Hygiene and Client Care.
Study of the face and body and the psychology behind makeup.
Colour Theory and Harmonies.
The importance of Foundation and it's use in makeup.
Study Ovals (face shapes), Brow & Eye, Lips and Nose Corrections.
Makeup Preparation and Framework.
Professional tools, products and their uses in makeup.
Time Management and working to deadlines.
Makeup techniques for specialised conditions.
Flawless skin techniques; Understanding global skin tones and types; Corrective camouflage and concealment.
Perfect eyebrows; Eye makeup techniques; Eyeliner techniques and looks; Mascara application, Working with false or individual lashes.
Working with powders and creams; Highlight and Contour; Blusher application techniques, Bronzing application techniques.
Techniques and working with products to create Day Makeup; Afternoon Makeup; Smoky Makeup.
Specialised techniques for Bridal Makeup; HD/TV Makeup; Editorial Makeup; Catwalk Fashion Makeup.
Fantasy Makeup, letting your imagination run wild to create spectacular makeup and effects with regular makeup products found in your kit.
Makeup techniques for self-application and how to teach to others.
Period makeup techniques and the history of makeup.
Project and Assessment.
---
The Advanced Makeup Artistry Course awards participants with a Seventa Makeup Academy Diploma in the course subject.
---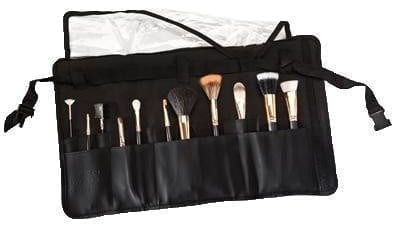 Bonus:
The Introduction Makeup Course includes a
Ten Image Professional Makeup Brush Set and Brush Apron
valued at £389 (RRP) for students to keep, plus automatic registration on our Professional Makeup Artist Discount Program for 30% off
Ten Image Professional
full product range, 10-20% Off future courses, masterclasses and workshops.
---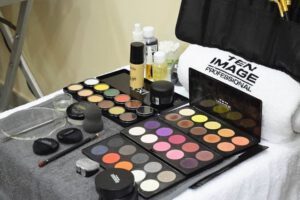 Products:
All products are provided for use on the course. Students and Tutors at Seventa Makeup Academy use products from
Ten Image Professional
. The products have exceptional quality, are hypo-allergenic to avoid or minimise any allergic reactions, are long-lasting, respectful and caring for the skin.
---
Aftercare & Work Experience: After completing your course at Seventa Makeup Academy we will invite you to gain Work Experience working alongside Professional Makeup Artists on events and jobs provided through Seventa Image Creatives Agency.  You will also gain access to Free Masterclasses, Micro Teaching Sessions and Workshops.
Graduates are invited to join the Seventa Image Creative Team on high profile events and productions throughout the year. We also regularly have international opportunities, so pack your bags and get ready to roll.
---
Companies, Events and Productions We Partner With:
---
Seventa Makeup Academy Graduate Stories
Professional and Encouraging
We all had a lovely time. A professional tutor who was also kind and caring and took great trouble to assist and encourage
Lots of useful tips
We had a really good time, the instructor is very knowledgeable and gave us lots of useful tips. Totally recommend it!
Covers all the basics
Very friendly and helpful, small groups, covered all basics of skincare and makeup
Great Instructor, relaxed teaching, highly recommend.
Juan is great instructor. He is extremely knowledgeable but fun and friendly at the same time. The way he teaches is very relaxed, so you end up experimenting with new things until you achieve the look which makes you happy. Highly recommend.
Definitely Recommend
Small and relaxed class, great teacher, very knowledgeable, made me feel at ease. Can't wait to put the skills that I have learned into action.
---
Duration: 10 days (1 day over 10 weeks)
Cost: £ 1495.00 GBP
Payments: Payment plans are available by contacting us or credit options (including interest free) are available through PayPal Credit at the checkout.